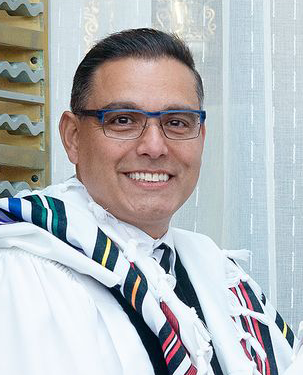 Rabbi Carnie Shalom Rose
Our Senior Rabbi, Carnie Shalom Rose, has lived, studied, and taught throughout the world - including stints in Canada, Israel, the Far East, and Europe. He is married to Pauline and they have four wonderful children - "The RoseBuds", Noa, Zakai, Lev & Ellior.
Deeply committed to Jewish Pluralism, Rabbi Rose continually strives to find innovative ways to make Jewish Tradition existentially relevant for contemporary seekers. He is a dynamic and passionate teacher & preacher, and strives to bridge the ways of the past with the needs of the present for the sake of the future.
Rose has received numerous local, regional, national and international honors, awards and recognitions. He served as a Fellow at CLAL - the Center For Learning and Leadership; was a member of the Federation's National Young Leadership Cabinet; was selected to participate in the STAR Rabbis: From Good to Great Program; participated in KJL - The Kellogg School of Management's Education for Jewish Leaders Circle; CLAL's Rabbis Without Borders; the Jewish Agency for Israel's Global Emerging Leaders Forum; the International Rabbinic Leadership Council which advises the Chancellor of the Jewish Theological Seminary; the Rabbinic Leadership Institute of the Shalom Hartman Institute in Jerusalem; and spent a year as a Fellow at the Hebrew University's Melton Center for Excellence in Jewish Education.
In 2010, Rabbi Rose signed a long-term contract with Congregation B'nai Amoona and was named the Rabbi Bernard Lipnick (Z'L) Senior Rabbinic Chair – a particularly poignant and fitting honor as Rabbi Lipnick served as a significant mentor and role model to Rabbi Rose.
Rabbi Rose is warm, affable and approachable and eagerly looks forward to communicating with those who seek his guidance and counsel. He can be reached at: ravroseba@bnaiamoona.com or 314-576-9990 x105.
Cantor Sharon Nathanson
Cantor Nathanson has served our Congregation since 2003. Born into a musical family and raised in St. Louis, she was afforded the unique opportunity to return to B'nai Amoona, her home congregation, as a member of the Klei Kodesh team. Utilizing the rich tradition of Jewish music, our Cantor reaches out to all segments of our population. She is active in teaching our students preschool through high school, as well as adults. Her degree in Music Education from the University of Illinois at Urbana-Champaign coupled with her extensive background in liturgy and vocal performance combine to create services that are both beautiful and accessible for this singing congregation.
She can be reached at Sharon.nathanson@bnaiamoona.com or 314-576-9990 x104.
Rabbi Jeffrey Abraham
Rabbi Jeffrey Abraham and his family are thrilled to be joining the Congregation B'nai Amoona community. With his unmatched enthusiasm, creative programming and experience, Rabbi Abraham is an expert on the changing needs of the Jewish community and engaging those seeking a new and deeper connection to Judaism.
Rabbi Abraham comes to B'nai Amoona as Associate Rabbi after six years as Senior Rabbi at Congregation Agudas Achim in San Antonio, Texas. Rabbi Abraham is the first member of the clergy to be awarded San Antonio Business Journal's prestigious recognition "40 Under 40." He previously served as senior rabbi at Congregation Sons of Israel in Nyack, New York, right outside of Manhattan for three years where he received dozens of awards for his work in revitalizing and growing his synagogue. Rabbi Abraham was also a contestant on The American Bible Challenge game show with Jeff Foxworthy.
Rabbi Abraham earned his rabbinic ordination at the Jewish Theological Seminary. Previous to this, he received a Masters in Jewish Education as well as a double bachelor's degree in Jewish Studies and Hebrew Letters with a minor in Political Science at the University of Judaism (now known as American Jewish University). He is trained as a community organizer with JOIN for Justice, is a Professional Affiliate with Big Tent Judaism and has worked on a number of Keruv initiatives to reach out to interfaith families.
Rabbi Abraham and his wife, Lauren (also a Master Jewish Educator), are committed to life-long Jewish learning and together with their three young sons (Benny, Henry, and Joey) bring a fresh energy and vibrancy to the Jewish community.
Rabbi Abraham looks forward to connecting with everyone. You can contact him at rabbi.abraham@bnaiamoona.com or 314-576-9990 x136.
Sat, April 10 2021 28 Nisan 5781