Our Mission
To strengthen and unite the women of Congregation B'nai Amoona as they work, learn and grow together through Jewish programs, worship and fundraising; perpetuate Jewish family, synagogue and community life; support the congregation and all congregants; enrich Jewish education and ties with Israel; and reinforce the understanding and perpetuation of Conservative/Masorti Judaism.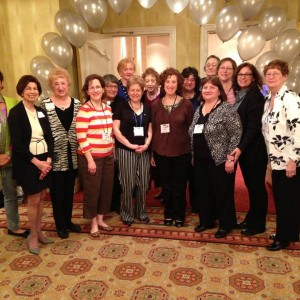 Our Vision
Through education, service and practice, the Sisterhood of Congregation B'nai Amoona will do our best work for our synagogue to maintain our Jewish traditions, heritage and values now and for future generations while balancing health, family, work and community.
Supporting our Synagogue, our Congregants, and our Community
The Sisterhood supports B'nai Amoona Synagogue, our Congregants and our Community in a number of ways; the following are just a sampling:
Shomrei Torah Endowment
Portable Aron Fund
Rabbi Lipnick Endowed Rabbinic Chair
Sponsors Babysitting
Jewish Food Pantry
St. Louis Women's Interfaith Conference
Shabbat and Holiday Babysitting
ECC and Religious School Programming
Life Cycle Gifts
USY Support and Scholarships
Assistance to Children with Special Needs
Kitchen Equipment
St. Louis Jewish Book Festival
St. Louis Jewish Film Festival
Jewish Theological Seminary (JTS) and its subsidiaries
Nishmah
Purim Hamantashen
Sukkot Caramel Apples
Adult Education Classes
Support for the St. Louis and Worldwide Jewish Communities
How can you help the B'nai Amoona Sisterhood?
The B'nai Amoona Sisterhood is dedicated to keeping alive the ideals of Conservative Judaism through a variety of educational, cultural, religious and social programs. Join us at one of our events, help us cook, volunteer at the Judaica Shop, stuff envelopes, or join a committee.
Membership Brunch
Project Linus
Torah Fund Event
Sisterhood Shabbat
Fantastic Educational Classes
Torah Yoga
Field Trips
Mah Jongg
Art programs
How can the B'nai Amoona Sisterhood help you?
The B'nai Amoona Sisterhood provides you an opportunity to:
Make New Friends
Share Ideas
Socialize
Learn about your Jewish Heritage
Perform Tzedakah
Develop New Interests and Skills
Have Fun
Acquire leadership skills
Sunday, Oct. 21
1:30 - 3:00 pm
Tikun Yoga: Put on your positive pants!
A spiritual afternoon of healing yoga and stories with Paula Gold
Please join us as we discover the power of combining yoga and Tikkun Olam (healing). Yoga, stretching, and the inspiring story how Paula Gold came to create Tikun Yoga Studio***.

Reservations required by October 15. Please click here to register.
Sunday, Nov. 4
10:00 am – 12:00 pm
A Sisterhood Brunch to Thank You for Joining
Join us for a delicious brunch as we present.
MAKING A WORLD of DIFFERENCE: A Vision for our Jewish Community
with special guest Karen Aroesty Regional Director, ADL Heartland

Reservations required by October 18. Please click here to register.
Wednesdays
10:00 am – 11:30 am
Atideynu 201: Conversations in Search of a Meaningful Judaism
Facilitated by Rabbi Neal Rose
Join us as we explore, in conversation and discussion, rather than lecture, a little about our Jewish past and then about our community's future social, emotional and spiritual aspirations. And by community, we mean the Jews at B'nai Amoona, in St. Louis, America, Israel and the world. We plan, over the course of the year, to bring in a multitude of guest Rabbis, teachers, artists, writers, etc. to join us.
Mon, October 15 2018 6 Cheshvan 5779