Our Mission
To strengthen and unite the women of Congregation B'nai Amoona as they work, learn and grow together through Jewish programs, worship and fundraising; perpetuate Jewish family, synagogue and community life; support the congregation and all congregants; enrich Jewish education and ties with Israel; and reinforce the understanding and perpetuation of Conservative/Masorti Judaism.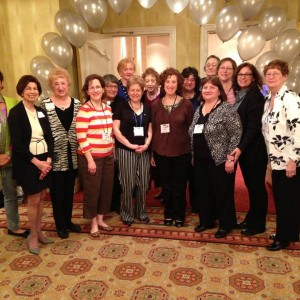 Our Vision
Through education, service and practice, the Sisterhood of Congregation B'nai Amoona will do our best work for our synagogue to maintain our Jewish traditions, heritage and values now and for future generations while balancing health, family, work and community.
Supporting our Synagogue, our Congregants, and our Community
The Sisterhood supports B'nai Amoona Synagogue, our Congregants and our Community in a number of ways; the following are just a sampling:
Judaica gift shop
Shomrei Torah Endowment
Portable Aron Fund
Rabbi Lipnick Endowed Rabbinic Chair
Sponsors Babysitting
Jewish Food Pantry
St. Louis Women's Interfaith Conference
Shabbat and Holiday Babysitting
ECC and Religious School Programming
Life Cycle Gifts
10th Grade Trip to Washington DC
USY Support and Scholarships
Assistance to Children with Special Needs
Kitchen Equipment
St. Louis Jewish Book Festival
St. Louis Jewish Film Festival
Jewish Theological Seminary (JTS) and its subsidiaries
Nishmah
Purim Hamantashen
Sukkot Caramel Apples
Adult Education Classes
Support for the St. Louis and Worldwide Jewish Communities
How can you help the B'nai Amoona Sisterhood?
The B'nai Amoona Sisterhood is dedicated to keeping alive the ideals of Conservative Judaism through a variety of educational, cultural, religious and social programs. Join us at one of our events, help us cook, volunteer at the Judaica Shop, stuff envelopes, or join a committee.
Membership Brunch
Project Linus
Torah Fund Event
Sisterhood Shabbat
Fantastic Educational Classes
Torah Yoga
Field Trips
Mahjong
Art programs
How can the B'nai Amoona Sisterhood help you?
The B'nai Amoona Sisterhood provides you an opportunity to:
Make New Friends
Share Ideas
Socialize
Learn about your Jewish Heritage
Perform Tzedakah
Develop New Interests and Skills
Have Fun
Acquire leadership skills
Plus receive a discount at the Judaica Shop
Wednesdays
10:00 am – 11:30 am
Jan 10, 17, 24, 31
Feb 7, 14, 21, 28
Mar 7, 14, 21
Apr 11, 18, 25
May 2, 4, 16
Sisterhood Adult Education Class
Facilitated by Rabbi Neal Rose and Cyndee Levy, this class is based on Mussar Institute curriculum. Mussar is the study of Jewish ethical literature about character development and spiritual growth leading to awareness, wisdom and transformation.
Text for Class: Everyday Holiness: The Jewish Spiritual Path of Mussar by Dr. Alan Morinis - available in the Judaica shop for $22.95.
Questions? Contact Linda Spitzer Gavatin at 314-482-8271 or lspitzer@ims-stlouis.com
Cost is $15 (Sisterhood or Men's Club Member) / $30 (Non-Member)
To Register, please download this form and turn it into Barbara Shechter.
IntraContiental Region 2018 Spring Conference
Please join B'nai Amoona Sisterhood and the IntraContiental Region for the 2018 Spring Conference. This year's theme is A Spectrum of Possibilities.
Highlights of the conference include an Israel update from Consulate General of Israel, Atlanta; a Coaching Workshop; Emerging Trends in Membership; Lunch and learns; an Israeli fashion pop up shop; Torah Study; Leadership Workshops; Region Installation Dinner and much more!
Full-Time Delegate: Register by April 6th: $190; Register after April 7th: $225
Part-Time Delegate (Sunday or Monday): $95
Dinner Guest Only: $25 Sunday or Monday evening at B'nai Amoona
The possibilities are endless as to how you may become engaged, enriched and empowered at the WLCJ ICR Spectrum of Possibilities Conference. Look forward to seeing you there!
Click here to REGISTER
Please contact Elise Krug for more information in regards to B'nai Amoona Sisterhood's participation.
If you have any questions regarding the conference, please feel at: ICRconferenceinfo@gmail.com
Fri, May 25 2018 11 Sivan 5778